Summer Solstice Driving School
Event Requirements
Registration closed June 19, 2021 11:59 AM at 2021-06-19T08:59:00-0700 Registration ends June 19, 2021 11:59 AM at 2021-06-19T08:59:00-0700 Registration opens February 12, 2021 11:59 AM at 2021-02-12T08:59:00-0800 Registration runs from February 12, 2021 11:59 AM to June 19, 2021 11:59 AM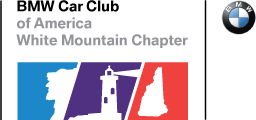 Before registering, read and understand:
TechInspectionlBoston 2021 PLUS WMC -1.pdf Once again for 2021 a number of our supporting Independent Boston Area BMW Service Shops have offered to provide pre-track inspection services free of charge to our club members as a means to make attending a driving school easier and safer. You can, of course, still go to your shop of choice for a pre-event tech inspection and or inspect your own vehicle if you are qualified. The following is a list of our supporting inspection shops in alphabetical order.
At the event you'll need:
More information to make your experience better:
Rules and Procedures
The Procedures and Rules have a notable update from last year - helmets!
Before you register please note cars with automatic braking and/ or lane drift correction systems will not be permitted to participate unless the systems can be fully turned off for the track sessions; proof that the systems can be turned off must be provided (i.e., information in Owner's Manual, etc.)

Drones or other remotely controlled aerial vehicles? Nope. Leave 'em home.
SFI 31.1 and FIA 8860. Snell SA2010 or M2010 or newer helmet is required - Snell SA2005, M2005, (and older) helmets will not be accepted!
Eligibility rules for Targa/T-top cars and high-performance SUV/SAV/CUVs have been clarified.
Questions?
• For answers to questions regarding student registration, or our Driving Schools in general, please email the registrar using the "Contact Host" button on the right side of this page.
New-to-Boston/WMC Instructors
• If you are an instructor for other chapters or car clubs, but have never instructed for the Boston Chapters, please contact the registrar
Registration closed June 19, 2021 11:59 AM at 2021-06-19T08:59:00-0700
Registration opens February 12, 2021 11:59 AM at 2021-02-12T08:59:00-0800